Octopus Facts And Information – Welcome To The Cephalopod Univers
Octopuses Are Brainy, beautiful, Weird, and Wonderful
Octopus Facts And Information, Three hearts, a massive brain, and blue blood, they navigate unlike anything else. The earliest fossil is Pohlsepia, which swam the oceans 296 million years ago. The first known written record referring to octopus habits comes from Aristotle (330 BC) who encountered O. Vulgaris in The Mediterranean Sea he denounced it as "stupid," However, it can solve problems, remember solutions, navigate through mazes, and take things apart for fun–they even have distinct personalities.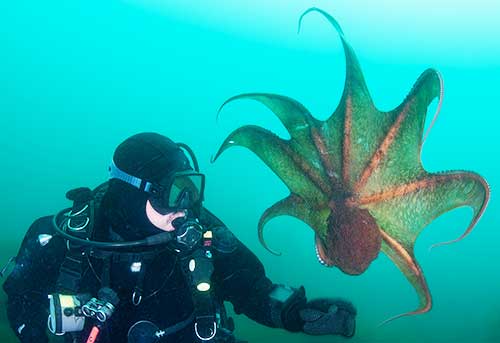 Introduction to Octopuses
Everyone's imaginations are ignited when they hear the word "octopus." Whether it is a vision of giant tentacles towering over lost ships or an alien-like creature crawling across the seafloor before suddenly shooting out a blob of ink and zipping into the blue horizon.
These fascinating creatures have existed for hundreds of millions of years and have fascinated humans for as long as we have been able to consider what lies beneath the ocean.
With three hearts, a massive brain, and blue blood, Octopi navigate their world unlike anything else.
Read Or Listen To The Article Click Here. Octopus Intelligence
Intelligence:
It might seem unexpected for some people, but the octopus has long been regarded for its high intelligence. Studies have shown an ability to navigate mazes and excel in problem-solving experiments that test both long and short-term memory.
They have a high capacity for learning and they have very few fixed, preprogrammed responses. Rather, they react to stimuli and problems in a variety of ways and can even discern what is necessary to learn in order to progress.
When attempting to eat a clam, octopuses will pry them open, or use their beaks to either chip away at the shell or drill into the meat. When researchers actively blocked one of these methods, binding the clam shut, for instance, they observed juvenile octopuses quickly adjust and try a more successful technique. How they learn these strategies is a mystery since they are not taught by their mothers after their eggs hatch.
Octopuses have been recorded actively distinguishing between various shapes, patterns, and colors. Not only are they known to practice observational learning, but they have been seen participating in play.
This was noted when certain captive octopuses tossed toys into a circular current only to catch them moments later and then repeat the game. Famously, octopuses will attempt to escape their enclosures to enter other tanks or steal food.
Many fishermen have reported octopuses sneaking on board their ships, opening the holds, and stealing crabs.
Without an inner shell, they are super flexible and the octopus escapes through tiny holes and cracks.
The Veined octopus has demonstrated tool use by using discarded coconut shells as a portable shelter.
Top Octopus Facts
The Octopus only lives in oceans due to their need for saltwater.
There is no skeleton for an Octopus. This is why it is able to get into very small spaces.
Octopus squid and cuttlefish are called cephalopods
The Octopus is very creative in its abilities. They can release pigments that allow them to blend into the surroundings. This helps to keep it well hidden from different types of predators out there. It can also mimic the behaviors of other types of animals so that it is left alone.
They are well known for being very intelligent animals. They have the ability to problem-solve and to get through mazes. Testing shows that they have both short-term and long-term memory abilities. Yet they do seem to have a hard time learning how to control their own motor skills when they are young.
The Octopus has several different methods of movement that it can rely upon. Most of the time they will be seen either walking or crawling. However, they can also swim, and when they have to move very quickly jet propulsion is used. They try to move at a steady pace to be able to save energy.
Read Or Listen To The Article
Description of Evolution, Behavior, Habitat, Distribution, Reproduction, Predators, Diet, and Feeding Habits
All types of octopuses can give off that ink which is very dangerous to other creatures in the water. There is only one type of Octopus that is actually deadly for humans. This is the Blue Ringed Octopus.
Most people will never see a live Octopus but that doesn't stop them from eating them. There are tons of ways to prepare meals from them, with recipes from all types of cultures out there. It is fascinating to see the different ways in which it can be used for meals.
When it comes to feeding, the Octopus is able to suck its prey out of the shells. For those that are harder, they have a type of toxin that they release and it causes that shell to dissolve. They will eat large amounts of mollusks, crustaceans, and fish. Most of their hunting takes place at night.
These animals don't seem to do very well in captivity at all. The level of stress it creates can cause them to stop eating and to die much sooner than they ordinarily would. There are many different sizes of Octopus but the behaviors among them are very similar all across the board.
While research has given us quite a bit of insight into the Octopus there remains plenty to still learn about it. There have been some experiments with them to try to prolong life but many animal rights groups oppose this type of testing.
Personality: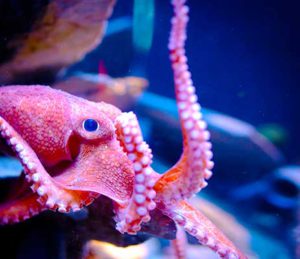 A marine biology researcher named Jennifer A. Mather how studying octopus behavior noted that in her field observations her subjects seemed to display distinct personality traits. Some were aggressive or curious while others were so shy, they would not leave their dens in anyone's presence. Each subject was distinct in its behaviors.
Following this thread, she heard how the Seattle Aquarium only named animals they felt displayed a discernible personality. These included otters, seals, and the giant Pacific octopus. When she visited the aquarium, she became acquainted with three of their most famous octopuses.
Leisure Suit Larry was known for being touchy-feely with his keepers. Whenever they interacted with him, he groped and grabbed in a way that would make most people blush.
Meanwhile, Emily Dickenson would never leave her den and would often hide behind the artificial backdrop of her tank. Presumably, she wrote poetry and bemoaned her inability to connect with others. Finally, there was Lucretia McEvil who was so aggressive she tore apart her tank and scared her caretakers.
A personality is not easy to define and for a long time, it was thought they only humans could possess them. However, if it's simply a pattern of individual behaviors that remain consistent despite time and circumstance, then octopuses can certainly be said to have personalities.
Mather was able to observe forty-four octopuses exhibit 19 distinct behaviors over the course of 3 tests. Along a spectrum, her subjects all displayed independence and various distinct habits that marked them as individuals.
The Octopus and Human Culture:
The octopus has loomed large in our minds since we first became aware of them. They are as graceful and alluring as they are frightening. The Kraken is perhaps the most famous of octopus monsters. Dreamed up by Scandinavian sailors, the Kraken was thought to terrorize passing sailors by ripping apart ships and pulling men beneath the waves.
While the Kraken is particular to the North Atlantic and the superstitions of Nordic sailors, depictions of a massive octopus attacking ships have lasted through the centuries. The Kraken as a symbol of nautical myth has been depicted in every kind of media from 13th-century Norwegian writings to Nintendo games and blockbuster movies.
It has been theorized that the ancient Greek monsters Medusa and the Gorgons were modeled after the octopus.
When Medusa's head is severed it mirrors the imagery of octopuses with the tentacles depicted as a tangled hair of living snakes and the fangs and tongue representing the beak.
The octopus has played major parts in the mythologies of the Hawaiians, the Ainu, and the Japanese.
Sometimes they are creatures representing a previous age before creation, a terrifying monster in the vein of the Kraken, or as a symbol of erotica that circumvents censorship.
Within many spiritual circles, octopuses are thought to represent flexibility and intelligence. With their boneless bodies and powerful brains, octopuses are spirit animals that bring people in touch with their creativity, emotions, and intelligence. Someone tapping into the energy of the octopus draws on its ability to find creative and flexible solutions. They are good problem-solvers and are easily bored by jobs and people that can't make them think or live up to their creative potential.
The mimic octopus disappears in a jet of water, after transforming itself into a sea snake on the ocean floor, and in a flash, it is now hiding in coconut shells.
Typically many species of octopus have different ways to escape, but the mimic is a master of disguises.
Read Or Listen To The Article